Samsung Launches Samsung UV Sterilizer with wireless charging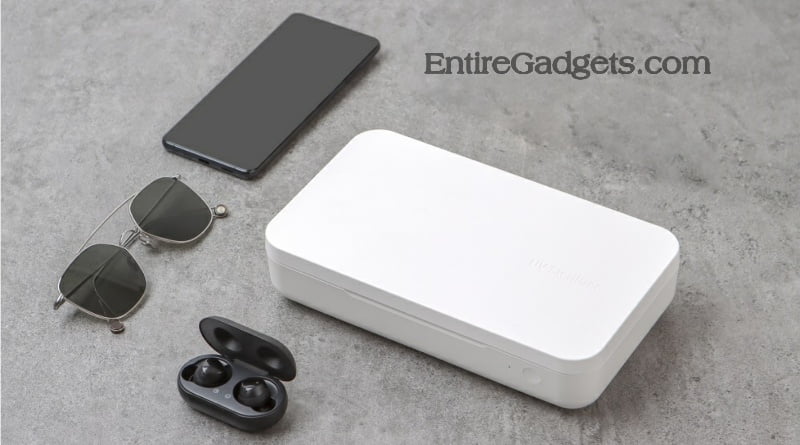 Samsung UV Sterilizer Summary
You all know that Samsung is a very old and reliable company, which has a significant contribution in the field of technology. Samsung is always in the news for its new technology smartphones, earphones and new gadgets.
Samsung is going to launch another device in August 2020, named Samsung UV Sterilizer, it will disinfect your smartphone, ear buds and glass etc. in 10 minutes.
It kills coli, Staphylococcus aureus and Candida albicans and 99% of other germs.
This sterilizer features wireless charging, With which you can charge your phone and earbuds. It is a very good device at the time of fatal disease like corona.
Certification
Samsung's UV Sterilizer is certified by WPC (QI), CE, CB, FCC and KC.
Body shape
Its length, width and height are 22.8 x 13.3 x 4.95 cm respectively, in which you can comfortably carry smartphones like Samsung Galaxy Note 10 and S20 Ultra. It weighs 369 g, which is quite light and comfortable. You can easily take it anywhere.
On or Off System
Samsung UV Sterilizer has a button, with the help of which you can easily turn it on or off.
Samsung UV Sterilizer Price in India
The Samsung UV Sterilizer is now available for sale on Flipkart and Amazon, which you will be able to purchase from online shopping apps, Samsung Store and local mobile shop after some time.
Samsung UV Sterilizer Full Specifications
| General | |
| --- | --- |
| Category | UV Sterilizer |
| Sterilizing Time | 10 minutes |
| Certification | WPC (Qi), CE, CB, FCC, KC |
| Charging | 10W wireless charging |
| Inner Dimension(I.D) | 19.6 x 9.6 x 3.3 cm |
| Outer Dimension(O.D) | 22.8 x 13.3 x 4.95 cm |
| Weight | 369 g |
Missing Information ? Tell Us
Sources: Samsung